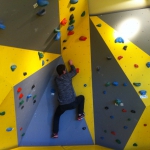 On December 11th, the students of the Master "Business Intelligence and Process Management" visited the SAP Innovation Center in Potsdam. Rami Akkad gave us a tour around their impressive creative space with a view to the Jungfernsee. The building had not only the obligatory ping-pong table but also a gym with a climbing wall.
The day started with an introduction to the SAP Innovation Center, which focuses on co-innovation projects in close cooperation with partners from industry and academy using the design thinking approach. Right now around 120 employees work there with expertise in diverse fields like machine learning, in-memory computing, and user experience. Part of the co-innovation process is also their cooperation with the Future SOC Lab of the Hasso Plattner Institute (HPI), where scientists can use the IT-infrastructure, like a 1000 core cluster, for their research. Then, Hannes Rauhe presented an overview of in-memory computing with SAP HANA.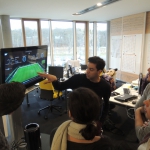 Miganoush Magarian presented TeachSurfing, which is a free platform that connects people who want to teach their skills with schools and other organizations in their home country or their travel destination. TeachSurfing is powered by SAP HANA. In the future TeachSurfing expands their volunteer knowledge sharing possibilities to universities, so that professionals from companies can give guest lectures and present real-life applications and cases of technologies that students learn in the university. We are proud that the Berlin School of Economics and Law is the first collaboration partner for this new idea.
—-
by Roland Müller