A case study conducted by KPMG Digital Finance in Berlin showed us how much our data analytics skills have already improved after only two months in the Business Intelligence & Process Management (BIPM) program. It is Thursday, 6th of December 2018, a cold winter day. For some of us it is the first "real" winter, as there are students that come from tropical places of this planet that have not yet experienced the winter we are used to in Europe. Despite the cold weather, we were ready to show KPMG our business intelligence skills and our determination.
The event started with an introduction of KMPG Digital Finance by Björn Wehner and members of his team (Ika Putri, Sebastian Fischer, and Stella Valcheva). Next, the data analytics expert Valeriya Obrosova presented a real case, where she developed a prediction model for the internet consumption of a company and what insights she gained from the available data. Thereafter, we moved over to the introduction of the analytics application Qlik Sense and the case study that we had to solve. KPMG provided us with the necessary hardware and software as well as beverages and snacks for the event.
The case study was introduced to us as a "returned goods issue". Imagine this: You work at an e-business company (i.e. online shopping) that sells clothes. In that type of industry, the end customer selects some clothes with different sizes, colors and styles, and then places an order to be delivered to their home. After receiving the package, the customer can try out the ordered items and see if they fit. If something is not okay (e.g. wrong size or looks), they can return it to the company.
This business model is really beneficial for the end-customer. They feel more confident to order online, as they have the free-of-charges opportunity to return their goods. However, it is not so efficient for the e-business itself. Why? Those returns are usually affecting the company in different dimensions:
the returned clothes usually lose some value and sometimes they even have to be disposed,
the return-delivery costs cut the profit.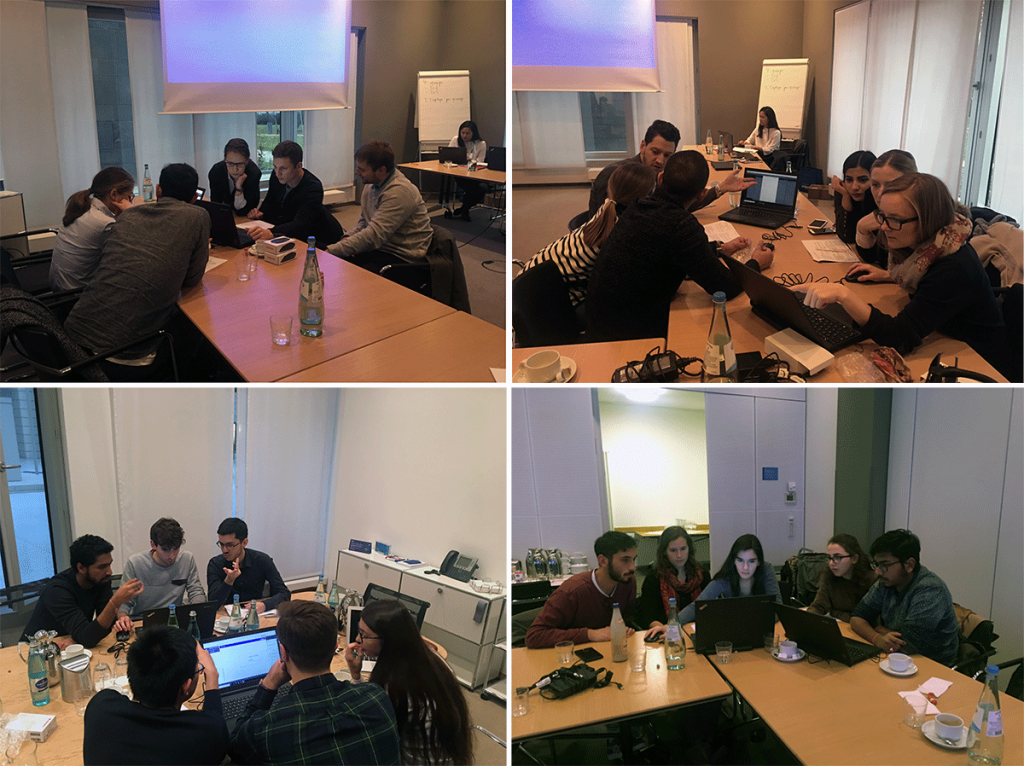 The case required from us to use the data to visualize the current situation, identify possible causes, and look for recommendations for the business. We needed to solve all of the requirements, by using the software Qlik Sense (a software that most of us did not know before). The data was already extracted, transformed and loaded. However, we had to develop reasonable KPIs by ourselves. We split into 4 groups of 5-6 members each. The case was challenging for us in so many ways, mainly because we had only 2 hours to figure out how to
learn and use the Qlik Sense software,
define KPIs with Qlik Sense's own language, and
create dashboards and visualizations in Qlik Sense for the business requirements.
In the end, the results were quite satisfying for us. Although we did not know the Qlik Sense software before, we were able to understand it right away, because the BIPM program already gave us insights to other visualization and dashboard software and after all, they were pretty similar. The part that consumed some time was to realize how to define the KPI "return rate". We all had agreed that it was the count of the returned orders, divided by the count of all the orders, but then we struggled to define it in Qlik language. For example, we were using double-quotes ("") to define the column and apparently the software only accepted single-quotes ('').
Finally, we presented the results of the business requirements, such as
the gained insight of our customer demography, i.e. the age segment between 18 and 20-something years used to return more goods,
there were some particular neighborhoods, which tend to return more goods,
orders from mobile phones using a particular operating system, were having a higher return rate, which made us believe that it could be due to an absence of a proper app.
In conclusion, this event helped us realize that, although we are not yet experts on the topic, the BIPM program already provided us with enough knowledge to overcome the challenges ahead in a faster and more efficient way. We would like to thank our KPMG hosts Björn Wehner, Stella Valcheva, Ika Putri, Sebastian Fischer, and Valeriya Obrosova for an insightful and challenging case study!
By Kadir Ider & Diego Conejo